---
Click here to fill in the Potential Owners Enquiry Form. The donation for Bo is £400
---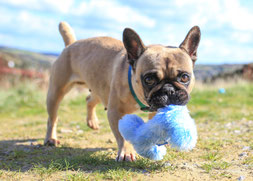 Welcome Bo 
 Bo is a 3 years old small French Bulldog weighing only 8 kgs.  She is very fit and strong, she has recently had BOAS surgery to her soft palate and nostrils to make her breathing easier, she suffers none of the usual skin allergies common in this breed as long as she is fed Burns biscuit.
Bo is extremely affectionate and needs to be the only dog because she gets jealous of other dogs sharing her owner.  She is too boisterous for children although would suit older teenagers.
Bo was not socialised with dogs until she arrived in this rescue so she struggles with a lot of the normal dog interactions.  Bo is dog friendly once she knows them but dislikes large dogs and will run up to them and nip.  She doesn't like boisterous dogs.  Bo doesn't understand how to play with dogs so she misinterprets - if dogs try to play with her she nips them because she thinks they are being aggressive. When introduced carefully to dogs she can run around off lead with them happily and with soft, kind dogs she can live in the same house, currently fostered with half a dozen small gentle dogs no problems. Bo would be better as an only dog within the home.
Bo needs medium level of exercise, every day she is getting 7 walks about 15 minutes off lead with her doggie friends. 
Bo is house trained, crate trained, travels well in the car inside a crate,  good to bath, good at the vet apart from getting over-excited in the waiting area.  We will not rehome her with cats.
We are looking for a home with
·         Sympathetic confident owners who have experience of socialising dogs who are anxious around other dogs
·         Fit, active owners
·         Someone around most of the day
·         No Cats
·         No young children, older teenagers OK
·         RURAL home away from lots of dogs where she can have lovely long walks
·         SECURE FENCED GARDEN
·         A home where she is going to be a priority
·         Lifestyle & financial security
·         Bo will only be rehomed within a 100 miles of West Yorkshire
---
---
---

I am anxious around other dogs, i need to be the only dog in the home.


I am well behaved in the house



I love to learn new things




I like to cuddle up with you on the sofa