---
---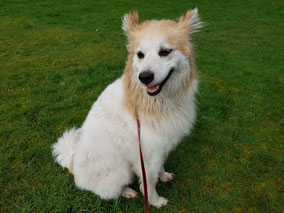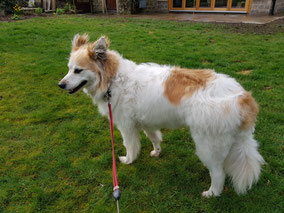 THE DONATION FOR MOLLIE THE COLLIE IS £200
 MOLLIE IS A COLLIE X SALUKI 6 yrs old
Welcome to our beautiful girl Mollie an extremely affectionate girl.
MOLLIE HAS A FEARFUL ANXIOUS PERSONALITY. She has been like this since we have known her in 2015 so we expect this to be a lifelong situation that needs managing to keep her calm and confident.  We believe this is her nature rather than as a result of abuse.  When she meets strangers, if on lead she will walk past calmly but if they come close and she thinks they going to touch her she will dodge to avoid them.  When off lead in the field she will bark at strangers and usually runs away from them.
VERY IMPORTANT Mollie has Separation Anxiety overcome with a constant dog companion in which case she can be left without human company.  When Pomeranian had to go for vaccination, Mollie took the trip too so she wasn't left without her best little friend. 

Kathy has had Mollie in various stressful situations – travelling, picking her up  to lift over a locked gate, the vet, the groomers, and although she sometimes turns her head with an open mouth she has never snapped.  She has extremely good bite inhibition, Kathy's thumb got in her mouth at a point where she was very stressed at groomers she avoided closing her jaw and moved her face so my thumb was not in her mouth.
Once she knows you, Mollie is very affectionate and loyal, responds well to praise, all handling and communication with her must be kind and gentle and such that she is given a bit of time to respond to commands because in some situations she has to overcome her anxiety before she can be obedient.  Highly intelligent and willing to please but she has never had much training. 
Mollie walks lovely on the lead but is better on a longer lead or extending lead.  She has good recall.  She has is a medium exercise dog.  Travels well in car but if a stranger comes into the passenger seat Mollie will bark.  Kathy travelled her in a Landrover with dog guard.
Mollie is dog friendly and slightly anxious but if a dog barks at her she will put her tail between her legs and lean on her handler - sometimes growls or air snap in self-defence if they run up to her very boisterous – but she is NOT a biter or fighter and soon makes friends.  For the time she spent with Kathy she has lived with one gentle Pomeranian who runs to people for cuddles which has helped Mollie trust the regulars to the farm.
To live with Mollie has been an easy dog at the foster home, calm and quiet as long as she has other dogs for company.  Has never destroyed anything in foster home.  Is fully housetrained, overnight 11.30pm – 7am.


Mollie's health is very good, no heart murmur.  Groomer advised her coat will matted easily when wet, she had a large number of matted lumps on arrival.  Groomer's strong hairdryer blew some excess hair out of her coat, Molly was extremely frightened when the groomer tried to cut large mats out of her coat, some mats remain.  Kathy had to wrap arms around Mollie to keep her still for scissors– same at Vets for vaccination. Mollie has been eating dry food with a good appetite.   
Below are a series of links to videos, simply copy and paste the link to view.
https://www.youtube.com/watch?v=1fehnQlGF5I&t=8s
https://www.youtube.com/watch?v=bYuI1QwYU0M
 https://www.youtube.com/watch?v=vvg86G47Nkc
https://www.youtube.com/watch?v=NSaxBRdRHi8
 https://www.youtube.com/watch?v=_sBCkKja9Ng
https://www.youtube.com/watch?v=173SIaMaRnk
https://www.youtube.com/watch?v=O26_2rcQJk8
We are looking for a home where theres
* Someone at home for most of the day
* Patient confident owners
* RURAL HOME
*Another neutered dog for company
* Secure garden
*Lifestyle & financial security
 *NO CATS 
---
---

I need another neutered companion dog


I don't like being left alone and might suffer if you do that for too long


I require lots of walks and socialisation


I would benefit from reward based training



I like to cuddle up with you on the sofa