---
---
---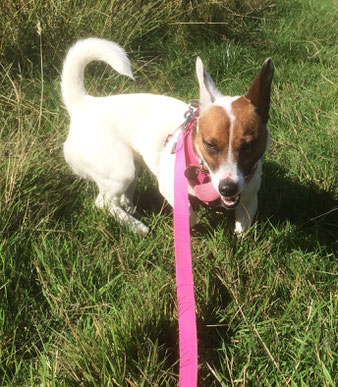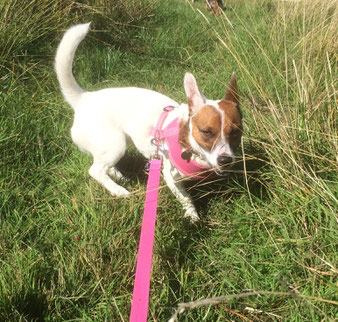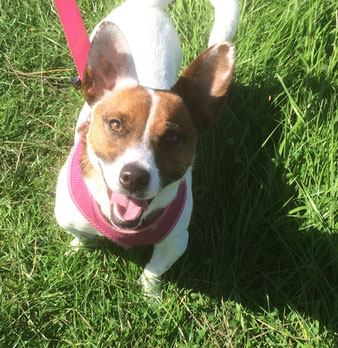 THE DONATION REQUIRED FOR POPPY SEED IS £275 
 NO CATS
 Dear Poppy is a substantial 21 months old Jack Russell Terrier with lovely kind affectionate nature. She has up until now never met another dog !!!!! So poor girl is frightened meeting dogs and is not sure how to conduct herself. However she is fostered on Kathy's farm and is learning fast about dogs and is now playing lovely with the terrier puppies. 
Due to her sheltered previous life we do recommend a peaceful home with experienced owners who understand the importance of socialising her with kind friendly dogs so she doesn't have a bad interaction to frighten her.
She is always in the company of dogs now, and it would be best for her to live with another NEUTERED kind friendly young dog in her new home, preferably a male because two female terriers living together may fight.
Poppy is still very young and she jumps up a lot, she is too boisterous for young children although in previous home there were visiting children aged 5 and 7 years. So experienced older teenagers would be best. Her favorite toy is a football and she loves playing in water. Poppy pulls on the lead, is slowly learning recall off lead because she is being let off for short sessions to have a really good run about. Poppy travels well in the car and sleeps well at night. She is clean in the house, she does jump on the furniture and snuggle up for a cuddle when you settle to watch TV.
We are looking for a home with the following criteria and will not budge from meeting their requirements so please don't apply unless you meet them
* An adult(s) around most of the time 
* Another NEUTERED DOG as a companion
* NO CATS
* Long term financial and lifestyle stability
* A fully fenced secure garden
* Children over 10 years
* Puppy experience
* Experience with reward based training
* Nearby good dog walking country they are not used to city life
* A home where they will be a priority and all their needs will be met and they will be given loads of love
Poppyseed will only be rehomed within a 100 mile radius of West Yorkshire
---
---

I love the company of other dogs



I am need someone around most of the day


Children 10 years and over