---
---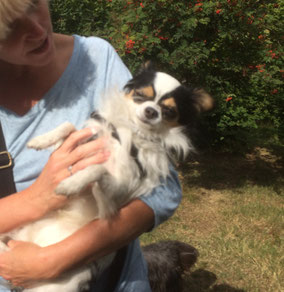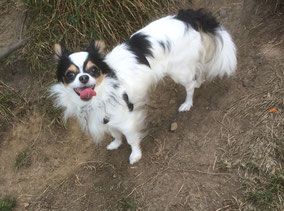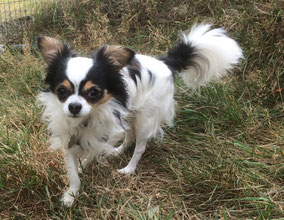 THE DONATION FOR WISPA IS £350
Wispa cannot be rehomed further than 100 miles from West Yorkshire.  
NO KIDS OR CATS he is unknown with both.
Wispa is getting 7 short walks a day and loves going out and about he will need a fit active owner THIS IS NOT A LAP DOG WHO JUST NEEDS A GARDEN he needs proper walks.  
Wispa is a gorgeous affectionate long haired Chihuahua with loads of character who loves loads of cuddles.  He is 3 years old and has not been well socialised as a puppy but is making up for it on Kathy's farm, where he meets dogs of all shapes and sizes with confidence and friendliness.  He has made best friends with Perry Chihuahua so we believe it is best for Wispa to be rehomed with a neutered dog similar age or younger.  He is good on the lead in a harness, off lead he is confident and has good recall, and travels well in the car.  Wispa will need trips to Professional Groomers, he is very well behaved there, and owners should factor the cost of this when considering adoption.  Also he is on "Royal Canin Chihuahua" complete biscuit which is an expensive food, anything else gives him a very upset stomach so he needs to be kept on this.
Wispa is a super little companion and pet
please apply if you fit the criteria below, we will be very careful who is allowed to adopt him as he is such a lovely dog.
·        Someone with loads of time to give him attention and take him walks
·  a Another friendly neutered dog similar age or younger
·        Secure garden
·       Nearby good walking areas he doesn't want to live in the middle of a town or city
 Lifestyle & Financial Security, Wispa needs a forever home
---
---

I am friendly and happy around other dogs


I don't like being left alone and might suffer if you do that for too long


I require lots of short walks


I would benefit from reward based training



I like to cuddle up with you on the sofa